Riding School Christmas Show 2012
Laurel View Riding School Christmas Show has become a very popular annual event. The third show on Saturday 22nd December 2012 was no exception with fifteen teams turning out in fine form for a fantastic day of festive fun and show jumping.
The mulled drinks were flowing and the mince pies nicely warmed. Snowmen and Santa's cheered the riders on at every jump. Santa's little helpers aided those with navigational issues, while the crowd of supporters, urged on the riders.
Team members jumped a combo of cross poles, 50cm, 70cm and 80cm, clear rounds as ever being the priority, after that it was speed that sorted the team positions.
Taking the top team spot was Rachel Gracey, Emily Elliott, Emma McWilliam and Amy Neill, riding Sky, Rab, Misty and Wills. Amy Neill was obviously some kind of lucky mascot, as Amy rode in the top three teams!!
Collecting a red, blue and yellow team rosette obviously spurred Amy on as she was in fine fettle when it came to the high jump.  She out jumped all the other riders on George, clearing 1 metre 35 to finish first and claim the cash prize, very useful for the Laurel View Christmas Dinner that night. Kirsty Marsden and Jackie Hanna put in valiant performances on Marvin and Cora, but there seemed to be no stopping Amy.
Top performing pony in the high jump was Gemma Ferguson on Chief, she out jumped her fellow pony riders, but continued to jump along with the horses, even after her father couldn't watch anymore!
The prizes were awarded and the opportunity was taken to present Riding School Assistant Certificates of Competence to all the Saturday helpers who have successfully completed the Riding School Assistants syllabus over the past year. This brought a great day of festive fun to a close for another year.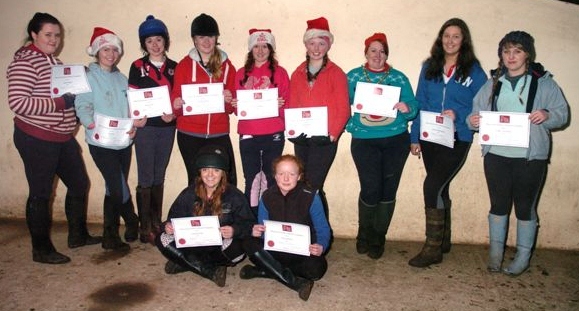 Riding School Show Results
1st team
Rachel Gracey, Sky; Emily Elliott, Rab; Emma McWilliam, Misty; Amy Neill, Wills.
2nd team
Finn Devlin, Bob; Kate Spence, Keady; Kirsty Marsden, Marvin; Amy Neill, George.
3rd team
Darci Harbinson, Tyson; Simone Ferris, Roly; Amy Neill, Roger; Jackie Hanna, Cora.
4th team
Paul Duffy, Tally; Sharka Gerhardus, Bridget; Simon Wylie, Jimmy; Edana Butler, Bella.
5th team
Chloe Baxter, Bob; Cathy Hawkins, Lass; Gemma Ferguson, Chief; Josh Boyles, Peter.
6th team
Kirsty Wallace, Bruno; Rebecca Pattinson, Marley; Katie McDonnell, Keady; Hannah Cuthbertson, Fitz.
High Jump
Ponies
1st Gemma Ferguson, Chief; 2nd tie Connie Jordan, Blue and Sophie McGuckin, Addy.
Horses
1st Amy Neill, George; 2nd Kirsty Marsden, Marvin; 3rd Jackie Hanna, Cora.