Laurel View on Lockdown #Log 1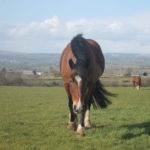 Hey guys, so this is our first kind of blog post that I have decided to do to help those missing the yard pass the time. I am in no way a talented writer, so hopefully this doesn't add to the boredom of sitting in your house for most the day.
We know everything can feel a little overwhelming at the moment and we also know many of you will be missing your equine companions and, especially as we ourselves know all too well how precious our time with these incredible animals are for our mental health, even if they do test our patience! And I don't know about all of you, but I know that during the periods I'm away from the yard I collectively miss the outdoor environment, packed with unique individuals and the various other animals that roam the yard. Laurel View has established itself as a true mad house, but I wouldn't change it for the world. For me, it's home and I know for many of you it is also a place to relax or have fun.
No offence, but to be completely honest, Laurel View in Lockdown is kind of pleasant. We wouldn't wish it to stay this way forever of course. But we would be lying if we said the slower than normal pace is a nice opportunity to relax just a little. For once our employees are actually getting away at closing time, our most popular horses are enjoying their extended holidays and we aren't running round like headless chickens trying to get everything ready for another busy day whilst maintaining the all important smile and nod associated with customer service excellence. Make no mistake, we love our jobs. We wouldn't be here if we didn't. We work with horses because they are our passion and we want to help others like you have the same opportunity. However, at the end of the day, we are still human, we still have good and bad days. The hours are long, and the job is physically demanding, so as you may guess. We get tired, so as difficult as this time is for our society, we are trying to find each small blessing we can, and for us right now, it's that we can slow down and relax.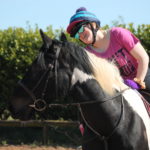 That said, it doesn't mean we don't miss the usual buzz of the yard. Quite the contrary, isolation may have offered a period of relaxation, but it has also created a period for reflection. It has reminded us why we come here each and every day to try our hardest to provide you with the most memorable experience. We miss seeing kids learning to ride, the smiles on each of their faces as they master their rising trot, successfully canter for the first time or fall in love with another of our special ponies. We love having a laugh with our slightly stiffer adult riders who have returned to the sport after a long hiatus or those who have horse riding on their bucket list and are joining a little later in the game (it's never too late to start, as one of our oldest beginners was 79). It seems awfully quiet without the squeals of another persons 'surprise' whilst doing some goat yoga, or the happiness of Robert and his social farming groups as you pass them on the hacking track taking the goats and our dog Misty for a casual stroll or as they wash and halter train the calves in the yard in preparation for show season. Between the competitions and madness of Pony Club to the determined RDA riders and our devoted Saturday Helpers, the people that come here and get involved each add their own unique energy to the business.
We treasure each of the special moments and take pride in watching people grow, developing confidence, essential skills and turning into truly inspirational people.
By the same token that we have taken this as an opportunity of reflection, we hope you too also develop a new level of value and respect for the service that we offer. The equestrian industry isn't a money industry, it's 'a tough old slog' as some would say. One that has the ability to transform us into 'that crazy horse person' that everyone stares at in the shop as we stand there looking like a scarecrow the morning after, but we love what we do and in the words of L'Oreal 'You're worth it!'
To conclude my rambling attempt at a blog, our jobs tough, but we love it and we can't wait till we can welcome you all back again. Stay safe, stay home!
If your missing horse-riding an unbearable amount maybe you could give human show jumping a go, tag us in your videos if you do, I'm sure it will certainly help keep the rest of us entertained.