Laurel View on Lockdown #Log 2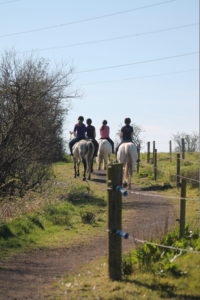 29 days into lockdown and for some the new normal is binge eating obscene amounts of junk and absorbing Netflix and Disney+ as if we're stuck to our sofas. Maybe you're spending this time transforming into the next Mary Berry or spending your morning trying not to trip over the kids during a family Joe Wicks workout in the hope of exhausting them just enough that they submit to a day of home schooling, but instead you've just exhausted yourself and they're still rioting in protest of schoolwork. I have even seen some people take up knitting due to extreme boredom (the human equivalent of horse weaving?) Perhaps you have even succumbed to the pressure to download TikTok and now have an unhealthy addiction (a situation which I must shamefully confess I relate to).
Many people are working from home and I know some of you are essential workers, and I would like to take this opportunity to thank each and every one of you for the work you do to keep our world revolving, extra special thanks to all those working on the frontline as our NHS workers.
I think it's fair to presume that right now our new "normal" is slightly different than how we would have ever expected to be spending Easter just a couple of months ago. Here at Laurel View we are starting to get into the swing of things. Each day starts off almost as standard with feeding the stabled horses and from there we work forward ticking off the daily job list.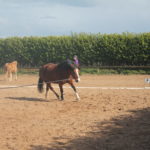 The fatties (if you are in any way familiar with our riding school horses you can probably guess who this oversized squad is comprised off) get transferred to and from the newly repurposed car park turnout area (we're working on a name that rings a little better) to the field for their limited hours of grazing.
Each day we're also riding and exercising the horses according to the rota which was created at the start of the lockdown. The purpose of the rota is to keep the horses ticking over and in shape so that when we can start lessons again, we don't have to worry too much about the horses being too fresh or unfit. Each horse and pony has been getting exercised at least once a week. Since we have been blessed with the sun beaming down on us the past two weeks we have been making ample use of the hacking track and outdoor arena, while the smaller ponies have been getting lunged and even on some occasions taking a trip to the water jump to play.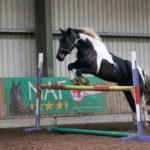 We are always trying to be mindful of practicing social distancing, which is usually straightforward enough if you are keeping the appropriate horse's length apart whilst riding round the hacking track, especially on some horses who particularly value their personal space "cough, cough" Ben, Cindy and Silver! When we aren't using horses as distance dividers we generally have a fork or yard brush in front us providing a good measuring stick to keep us appropriately apart.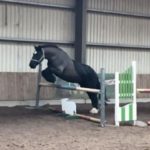 You can never really get a break at an equestrian centre, it's either a 'busy' day or a 'hectic' day and the word 'holiday' is a foreign concept to us. Trust me, if you're spotted looking too relaxed around the yard, I'm sure Laurel will find you a new task to keep you busy. There are always stables to be mucked out, yards to be swept and tack to be cleaned, even during lockdown. The picnic table in the yard didn't take kindly to being moved for cleaning round. It is currently collapsed and is unlikely to be brought back to life as it only encourages congregating!
Our liveries attend to their horses during restricted hours to help keep as few individuals on the yard at any one time and we have plenty of hand sanitiser and disinfectant around the yard at pertinent points ready to be used, helping everyone to stay safe.
To limit risk of injury we have stipulated that nobody jumps horses at Laurel View during lockdown to avoid placing unnecessary additional strain on the NHS at this time. However, that creates the perfect chance to get a bit more creative with our everyday exercising of the horses. We loose jump the riding school horses every so often to let them blow off some steam, and I'm sure you would be surprised how high some of them can jump. Although, I won't lie, some of our lazier riding school horses (Johnny) certainly make sure we get our daily step count in whilst trying to motivate them.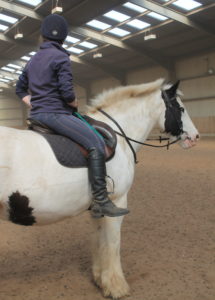 Overall, lockdown is the perfect motivation to work on our flatwork and transform our riding school cobs into the next Valegro. Okay, maybe that's a smidge optimistic but a bit more flatwork schooling definitely won't do any harm. I'm already stockpiling ideas of different pole exercises I can utilise to change things up.
That concludes my blog for the past two weeks, I will hopefully be back again next week to update you on the latest antics of Laurel View in Lockdown. If there is anything in particular you would like me to talk about, send us a message. In the meanwhile stay home and safe everyone!