Laurel View on Lockdown #Log 9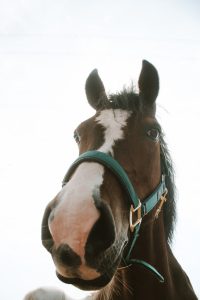 My sincerest apologies, I am yet again starting this week's blog by mentioning the weather! But I think we can all agree with my dearest darling sister's words "God really put the weather on shuffle this week!" As the weather this week has been arguably more random than my Spotify playlist switching from Beyoncé to Derek Ryan. One minute we are slapping on sun cream and next I am stepping out of the house only to instantly go running back in to yank on another three layers and a fluffy hat! As a result of the weather being more temperamental than a preteens mood swing (or I suppose my mood swings when I'm hungry) we decided to extend the closing date of our Virtual Charity Dressage in aid of Aware NI by 48 hours until Tuesday 9th June at 1pm. We know many of you planning to enter the competition don't have access to an indoor, therefore, we made the decision to try to give everyone a chance to film their tests in better weather. We want you to blow our judges away, not get blown away!
We set up a dressage arena indoors for our liveries and staff to complete their entries for the competition. Katelyn filmed a lovely Intro test on Addy and Casper was a superstar for Katie as he rode a beautiful test considering he hasn't been in an indoor since coming back in after his break following getting broken in, never mind riding a full dressage test!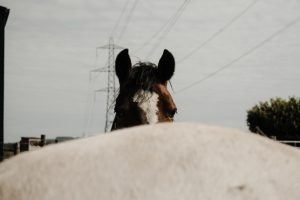 On Thursday we took Marvin down to Tullyraine Equine Clinic in Banbridge, for x-ray's as he has now been out of work for nearly two months after taking bad laminitis. We had put him on a strict diet and have been walking him in hand every day to promote circulation in his hooves and prevent him from seizing up. However, despite considerable improvements from when he had initially taken it, he was having good and bad days and remained very feely on rougher surfaces. Consequently, we decided to take him to the vets to get x-rays to check his pedal bone had not moved, as this can occur in the most severe cases of laminitis. Thankfully, the X-rays showed no sign of the pedal bone sinking or rotating. However, he was still feely at the point of the frog due to the laminitis and the soles of his hooves are rather thin which has likely contributed to his sensitivity. Therefore, the vet recommended putting shoes back on him in the hope that would help. However, we have decided to try hoof boots instead as he tends to pull his shoes off, causing further damage. Oh the joys of horses!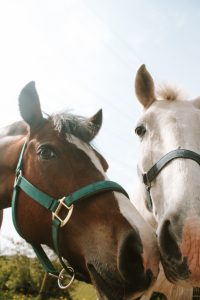 Lastly, this week we seen some more positive news, with DAERA guidelines updated online on 5th June to allow small group lessons outdoors. As a result, we are aiming to resume limited riding sessions of experienced and able riders by the middle of the month, abiding by new protocols that take into consideration the necessary risk assessments to endeavour to keep our riders and staff as safe as possible. So keep an eye on our website or Facebook for updates on this.
I will sign off now, as I need to get back to sorting through the entries for the charity show. Looking forward to hopefully receiving many more recordings of ridden tests, on foot freestyle and Tiktok dances by Tuesday 9th June at 1pm. All in aid of the excellent cause of Aware NI.