Laurel View on Lockdown #Log 20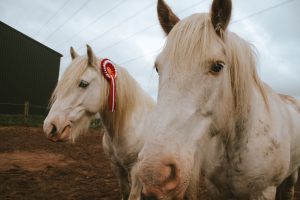 I will be honest, I never expected to still be writing this blog after 10 weeks, never mind 20! To say this year has been a little unpredictable seems like a minor understatement. We are certainly not out of the woods yet, but slowly we are edging towards a more 'normal' way of life. It would be insensitive of me to not acknowledge that many are facing very difficult personal circumstances at present. However, I think it is important to share a little bit of optimism during these periods as without a little bit of hope we would have nothing. Afterall, I started these blogs to try share some positivity and keep you all entertained with updates on the endless antics at Laurel View, maybe you have even learnt some random facts along the way.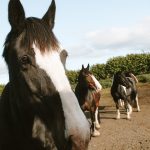 This almost certainly would not be a true Laurel View in Lockdown Log if I did not mention the weather at least once. And jeepers creepers, we have seen so much rainfall this past week that I thought I was going to have to order snorkels and goggles instead of face masks and visors for our instructors, Zara was practically pumping up her paddleboard as it poured in preparation to try paddle up the new river which had replaced our lane AND our big arena nearly became Centre Parcs first Subtropical Swimming Paradise in Northern Ireland as so much rain began to cascade into the arena I was having to contemplate alternative exit options as I didn't fancy my chances of convincing Silver to walk through a solid curtain of water (I don't think she would have believed me if I told her it would be like one of those massage things in the spa pools).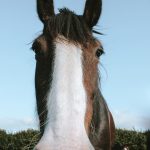 Whilst trying to convince ourselves that the tumultuous weather is basically a prolonged version of those hot/cold showers, we were trying to convince Johnny that exercise is fun so we can get him back into lessons and hopefully trim a few more pounds off him so he's more of a lean machine and less off a giggling geegee. If you have been about the yard much lately, chances are you have been subject to witnessing an argument between my dad (Robert) and sister (Zara) about who has lost the most weight on their quest to become that 'slightly healthier person that likes to brag about how healthy they are'. So since I am fed up hearing these petty ejits argue about this I thought I may as well get something out of it myself, so I am now taking bets on who everyone thinks will make the biggest transformation by the end of September; Robert, Zara or Johnny?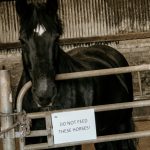 Claire has also been having an absolute blast this week as she continued to become accustomed once again to working in a physically intensive environment. Between brushing the yard (and telling me that I'm not brushing it her way) and lifting shavings bales round to stables, she will be back to her peak physical state in no time. The only people having more fun than Claire, is Katie and myself, as we gleefully watched her attempt to carry a shavings bale on her shoulder without falling over.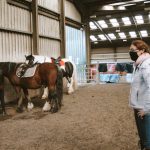 This week Katie has decided to let Casper have a well earned week off. Just like many of us, Casper will be staycationing in in Northern Ireland. He will be spending his short break in a beautiful field with breath-taking views, located along the short but scenic Knowehead Road. I'm sure he will make the most of this holiday by indulging himself in a therapeutic mud bath treatment followed by a delicious but filling dining spot, 'The Back Corner' offering healthy, local and fresh as it comes produce.
Do not worry though, all our riding school ponies are now back from their holidays and ready to help teach you all and develop as riders. Like most of us, I think they were a bit bored of lying around all day, plus they really missed seeing everyone and all their extra cuddles (just make sure you have washed your hands well beforehand!)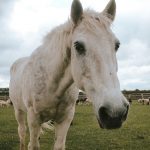 Hopefully, you will have now seen that we are able to take our existing lead rein and independent lesson riders for lessons again. For more details check out our riding lessons page (click on the tab above). We are doing our very best to minimise the risk of spreading COVID-19 here at Laurel View, but at the end of the day it's a team effort, so we ask everyone to follow our rules and guidelines so that we can continue to run riding lessons whilst respecting everyone's right to safety.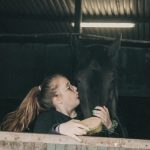 20 weeks later and here I am writing my final Laurel View in Lockdown blog post. I have loved writing these weekly blogs, hopefully giving some of you a bit of a laugh along the way or maybe even teaching you something new. Thank you all so very much for reading and your continued support of my family business, from the bottom of my heart, it truly means the world to us to have so many people care for this business half as much as we do. Things aren't going to be straightforward or simple for a long time, but we will keep fighting on so that for whatever reason you love coming here, whether its for the cuddles from our animals, the adrenalin or sense of achievement gained from the sport, escaping your responsibilities and doing something you love or because we are all a wee bit crazy around here and usually a good laugh, we want to be there for you. In return all we ask for is your continued support, we understand not everyone is in a position to return presently, but you can still show your support by engaging with us on social media and recommending us to your friends and family, Tesco says it best, but 'every Little helps'.
Once again, thank you all so much for your support and I will hopefully see lots more of you very soon.