Laurel View on Lockdown #Log 14
It has been another typically hectic week at Laurel View as the team are working hard to get more of our regular riders back in the saddle whilst maintaining social distancing measures and thoroughly disinfecting and cleaning tack after use to control the spread of the virus. Unfortunately, at present only around 20% of our normal customers have been able to fit the criteria to allow them to return to riding. Quite a number of our more capable riders have still not managed to book on to a session for a variety of reasons. As a result, we also have to spend a considerable amount of time schooling horses to keep them ticking over, despite half our employees remaining on furlough. However, we remain optimistic that with further relaxations, announced by the government in the past week, we will be able to welcome many more of you back in the coming weeks as guidelines for operating safely with assisting riders are approved.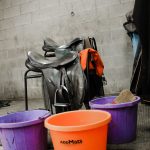 Many of our staff have been busy completing training online over the last few months, some of which has been Covid focused like Infection Prevention and Control and Keeping Customers Safe, all very important to help us do what we can to keep ourselves and our customers safe going forward. We also heard today that Claire has been making good use of some of her furlough time to learn sign language. One positive of this difficult time has been the opportunity to improve ourselves with online learning.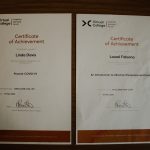 Due to the forecast of a few days of more promising weather conditions, the call was made to start cutting the first of this year's haylage. Contractors and members of our Laurel View team have mowed and kicked the grass to try and get it baled in good order, in between the rain that wasn't on the forecast we were counting on! This is a stressful process, as anyone with family members who are contractors or farmers will know, it typically means long hours as the race is on to get all the grass cut and baled before the bad weather rolls back around. Fingers crossed that the process results in bales to keep our four-legged friends happy.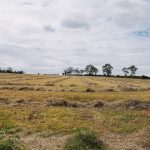 On Monday evening we welcomed two awesome new additions to the Laurel View farm, Ted and Barney, two purebred black nose Valais rams. You may recognise the name of these unique breed of sheep, originating from the Valais region of Switzerland, as numerous pictures of their little lambs have gone viral on social media because they are just so darn adorable. I highly recommend googling them, as I promise the photos will be the cutest thing you see today! Therefore, when we saw this awesome duo for sale and that the previous owner wanted them to stay together, we just could not help ourselves. Despite our social farming groups not being able to operate at present, they have been sent photos of Barney and Ted, and we can't wait to introduce the participants to them in the future. We plan to breed these two friendly rams with some of the sheep from our existing herd in the hope that next spring we will be able to welcome some teddy like little lambs here at Laurel View. In the meantime check out the cute ducklings that have recently hatched, definitely not purebred, more Heinz!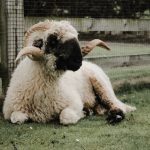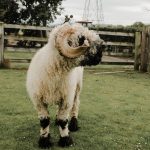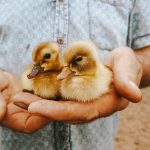 Today we were grateful to welcome back Yvette Trusedale to teach her first dressage clinic at Laurel View since lockdown began. These clinics organised by Norma are always a hit with liveries and riders in the local area alike, as riders come away from each session with valuable feedback to help their continued development in their riding journeys. Luckily, todays riders have landed great weather for their session, as typically the clinics are run in our smaller indoor, however, current government guidance stipulates that we cannot use indoors until the 17th of July, therefore, the sessions have taken place in our outdoor arena.
I will draw things to a close as we look forward to another busy week and the prospect of the great weather that will inevitably arrive when we are not restricted to the outdoor arena.