Laurel View on Lockdown #Log 7
As Lockdown currently continues at Laurel View until the appropriate official bodies give us the all clear to restart safely, we decided to reimagine our annual charity dressage competition, deciding that this year we would run it virtually. We know how many of you are missing all your equine friends at the yard or have made the decision to not ride at present, therefore, we wanted to ensure there was still a class for everyone, no matter your current situation. Hence, our Special Edition 'On Foot Freestyle' and 'TikTok Challenge' classes. The perfect opportunity to have fun, whilst helping the incredible work delivered by Aware NI, a charity which means a great deal to us at Laurel View. If you haven't yet checked it out, make sure you do and don't forget to spread the word.
I will admit, our decision to run with the Virtual Charity dressage was relatively last minute, meaning a considerable amount of my week was spent collating information and planning in the back of the shop. If you know our yard, you will be familiar with the vastly separate climate experienced in the shop in comparison to the rest of the yard due to its sheltered position. As a result, no matter how warm it is outside it will almost always seem absolutely Baltic in the shop (to give you an idea, before we got a stove put in, you used to have to practically sit on portable heaters for them to warm you up, I can't count the number of pairs of socks I burnt in the past whilst trying to regain feeling of my toes). Therefore, at the start of the week, after spending my morning in the shop in a hoodie, oversized coat and my unbelievably snug Oi hat I ventured outside to help on the yard, only to face the stark realisation that it was in fact sunny outside. I must admit, discovering I had missed such nice weather made me kind of salty, not helped by Katie then reminding me that I looked a little crazy standing in direct sunlight dressed as if I was about to get "Frost Bit" on a cold January morning. (If you don't know the company Oi = Outside In, check them out, I'm obsessed with their clothing, but also their incredible initiative to support those facing homelessness)
By Thursday, Northern Irish weather decided to hit us (literally) with gale force winds. The type of winds that cause significant ageing, as the wind blew our skin causing it to shift as if it was playdough. I must admit, walking across the field on Thursday morning to bring the Fatties in, I found myself grateful for my additional lockdown load. What is my additional lockdown load you may ask? Well, it's quite simply the consequential weight gain from my binge eating which I have previously mentioned. I would never say I was light enough to be lifted by the wind, but the extra weight certainly assisted in keeping me firmly anchored to the ground, enabling me to walk in a slightly straighter line than may have otherwise been possible. However, if me attempting to walk in a straight line in the wind was watched by one of those cops in all the American films where they use this strategy to test whether someone is drink driving, I don't think I would be driving home. Off course the boys had decided it was time for me to drop my lockdown load by taking refuge from the wind along the hedge at the far end of the field. If you're looking for a good resistance training exercise, I highly recommend battling your way back across the field, only this time also leading horses that are certainly not aerodynamically built. It's kind of like walking the opposite direction of the wind with a parachute strapped to your back.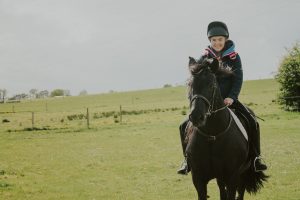 This week was also the week my dad ended up winning the dispute between him and Claire about who would be the first to back Winnie. Tactfully using social distancing measures to get his way as he reminded Claire nobody could hold Winnie for her as they would be closer than 2 metres, however, he could employ my sister to stand with Winnie whilst he backed her. As expected, Winnie was an absolute superstar, hardly phased by the experience.
The fat camp has also gained another member as Johnny relocated after he began to morph into an oversized donut, resulting in growing concerns that if he got down to roll he may not get up again due to his oversized circular circumference. In addition to joining the Chubbster Crews diet, Katie took him for a canter round the field, alongside fellow fatty Guinness being ridden by Amy-Lee. Despite Johnny practically jiggling as he cantered up the field against the wind and finishing his laps in a similar state as I finish a 15 minute vigorous workout and Guinness's mane nearly preventing Amy-lee from seeing as it flapped furiously in the wind , both boys seemed to have enjoyed their energetic burst.
Well I'm away now to monitor the latest queries and questions for the Virtually Charity Dressage Show. "See" you again next week.