Laurel View on Lockdown #Log 5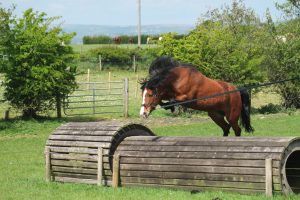 It appears my journey of self-discovery is set to continue as "normal" freedom is still some way off. And by journey of self-discovery, I mean, coming to terms with the fact I am an overly ambitious individual with an unfortunate trait of excessive procrastination. To help you understand what I mean, I initially had big hopes and dreams of having Cinderella-eske transformation. leaving isolation looking radiant, refreshed and with the abs of J-Lo, whilst simultaneously developing the baking skills to earn a handshake from Paul Hollywood. Instead, you can find me shamefully sitting on the floor after a day at the yard enviously watching some fitness guru reminding me 'I can do it!' as I blatantly ignore their encouragement and continue to gorge an entire shop bought coffee cake. Even the horses seem to be using this new spare time more productively than me by trying to learn new skills. Unfortunately for us, the new skill they all seem adamant to master is that of escaping, as this week the mares broke into the playground, not once but twice!
In yet another way the horses have shown me up this week, Addy and Marvin are now more flexible than me too, having taken up yoga in an attempt to reach more haylage during the day, a kind of downward dog position to get under the gate. Fortunately for them, this week we decided they were at the stage of gradually being allowed access to the field. For the past four days they have been allowed a strict 30 minutes of grazing, before having to trail them out of the field like two spoilt toddlers that you have just told they have to share their sweets.
Meanwhile, Addy's mini doppelganger, Laura, was showing all the other horses exactly how it's done whilst being lunged over XC jumps in the playground. Despite only being a 12.2 pony, she was flying sky-high over the fences with minimal effort.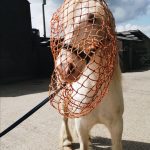 This week we also decided to start working with my father's pride and joy, Winnie, (sometimes I worry he may be starting to love her more than me!) Who despite not being the best looking horse on the planet, will certainly weave her way into your heart with her sweet nature, and the most charming little cob I have ever seen, Casper. These are two of our youngsters who you may have seen photos of on Facebook or Instagram. Casper has already been backed and did some riding before Christmas. However, typically we turn the youngsters out for a while after we have worked with them, to give them a well-earned break, stopping them from becoming overwhelmed. Consequently, Katie spent the week gently reintroducing him back into work by long-reining him round the hacking track and working to desensitize him, which included placing this hay net over his head. A look which I personally believe he modelled fabulously, demonstrating how a hay net could potentially be used as a unique headpiece for your next day at the races. On the other hand, Winnie has not done much other than general handling before now, therefore this week she spent some time wearing tack and getting lunged to get used to moving about with a saddle and bridle on. As predicted, she took it all in her stride (pun intended). Her sweet laidback nature has resulted in recent disputes to arise over who will be the first to back her, as both Claire and my dad are adamant that they will be the first.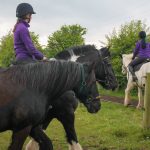 Our intermittent rain and sunshine combo continued into this week. As a result, my coat was on and off more than Jelena (Justin and Selena, apologises for the cliché millennial reference, it was the best comparison I could think of). This weather meant poor Katie and Katelyn got drenched while taken the cheeky chubbies crew out for their exercise round the hacking track. Yet, the following day we were out trying to convince the horses to let us put that awfully suspicious substance (sun cream) on their noses; with Lass, Luke and Connie trying to get away from us as if we were trying to cut their noses off with a chainsaw, off course typically these are some of the horses that need the sun cream the most.
That's all for this week, my parting recommendation for everyone is always have a raincoat and sun cream on hand, as after all this is Northern Ireland. Stay safe as we follow whatever government guidance transpires.