Laurel View on Lockdown #Log 18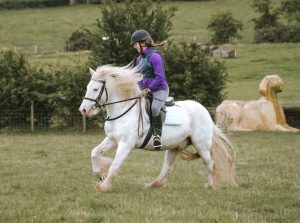 Surprise, surprise. I'm about to talk about the weather AGAIN! This week's weather has been more erratic than Connie our classically moody mare. One minute it is pouring out of the heavens as if the big man upstairs forgot to turn the tap off (clearly, he's not having to pay any NI water bills) before suddenly switching over to slow cooker mode. As a result of ever shifting weather we still haven't managed to get some of our fields baled yet, as just as soon as we spot a dry enough weather forecast, the rain seems to reappear almost as if it's that creepy person that randomly appears outside of the window or behind someone in almost every thriller movie ever. Furthermore, it rained so much this week it practically added another three water jumps to our cross-country course overnight, leaving our fields completely saturated. Unfortunately, this meant we have had to close the fields for a couple of days to let them dry off and recover. Giving them a couple of days off, means that the horses cannot tramp and turn up the ground, as waterlogged fields are softer and therefore easier to damage. If we let them get damaged in this way it would mean, we would have to remove the horses from the field for a much longer period of time and invest money into reseeding and repairing the ground.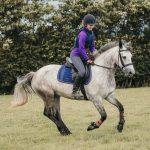 On the complete other end of the spectrum, when the sun did make a glorious reappearance I wasn't entirely prepared for it and despite telling others to put sun cream on, I didn't manage to put some on myself until I was glowing red. Now as I sit here with shoulders radiating heat as if they are on fire, I face the painfully constant reminder that I am not the kind of person that can 'chance it' in the sun. On top of my lobster skin, I also got bit on the side of my armpit by a cleg whilst riding round the hacking track, so if I can offer a piece of advice it would be, layer up on the fly spray to deter and if attacked anyhow reach for your horses Botanica Anti Itch cream which does exactly what it says on the tub.
One person who was apparently oblivious to the scorching temperatures for half the day was Claire, who has this week returned to work part time. Despite her endeavours to get back into shape before returning to work, she still found herself a little stiff after finishing her shift. Causing me some alarm as she persisted to wear a top, hoodie and oversized coat in 20 degree heat, she soon removed some layers after having to lightly jog up the yard a couple of times to check whether or not a horse was sound. As Claire would now say, her body temperature was fluctuating for the rest of the day. Regardless of the physical strain, Claire remained almost too happy about being back at work as she giggled and Johnny jiggled round the lunge pen and even with lessons being a little different from what they were before lockdown, she enjoyed being back teaching once again. One job she didn't relish though was cleaning out a drinker that the horse had mistaken for a toilet!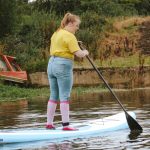 Others testing their physical abilities were Zara and my Dad as they took her new paddle board down to the water jump for a spin. Miraculously, neither of these oversized kids managed to end up in the water jump, despite some of us maybe having our fingers crossed that they would. Since Zara believes she could paddle her way to the Olympics due to her elite athletic abilities, she has decided she wants to host a paddle board race in Laurel Views very own water jump. The only question that remains is, will she have an opponent that is not Kirsten or my Dad?
In a yard where people go paddle boarding in the water jump and a collection of birds take the definition of 'free range' a little too far, I can confidently say that our riding school ponies get a thorough amount of bombproofing. One pony who stands out as well bombproofed, phased by almost nothing, is off course our charming Casper. This week Katie had a bit of fun desensitising him to see how well he would react, and of course he was a little superstar as per usual. Casper has also featured (along with other Laurel View residents Barney, Claire's Belle, little Laura, long haired Luke and super veteran Sparky) in the hot competition that is The Big BHS Photo Show – Ireland Final, if you haven't already done so take a mo and cast your votes by selecting the appropriate emoji reaction on the https://www.facebook.com/TheBritishHorseSocietyIreland/ page posts.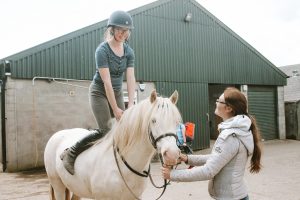 Well that is all for this week, as I now head off to help set up for tomorrow's Stage 1 care assessments covid style, meaning one to one assessing with supplies of sanitiser and disinfectant alongside the usual tools and tack.