Holly's Hartpury Fund-Raiser – 23.6.19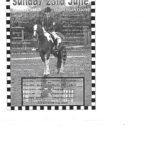 Show Jumping competition to raise funds to assist Holly to get to Hartpury to compete in all three disciplines at the RDA National Championships in this the 50th Anniversary year of the organisation.
Holly is delighted to say that sponsorship and support has already been offered by Bee Fast Fitness, Budd's Tree Services, Doagh Equestrian, Equi-Tog, Expressions in Metal NI, Laurel View Equestrian Centre and Mourne Rosettes.
Below are the list of classes running on the day, with the fun beginning at 12.30pm sharp.
Entry fees are £10 per class or 2 classes for £18 same horse/pony & rider combo
Class 1a – Cross poles (Led)
Class 1b – Cross poles (Unled)
Class 2a – 30cm (Led)
Class 2b – 30cm (Unled)
Class 3 – 40cm (Unled with assistance)
Class 4 – 50cm (Unled with assistance)
Class 5 – 60cm (Unled NO assistance)
Spread the word and come along to support this fun fund raising event.