Derby League Results (1 of 5)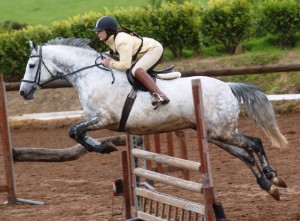 At long last I am posting the results from the Derby League which got underway on 15th May.  The grass or sand debate ended with the competition run on the sand arena due to the excessive precipitation!
Plenty of twists and turns kept the competitors on their toes, with a good number of jump offs to decide the top places. Roberta Bradbury steered Molly successfully into 1st place over the 60cms course.
Three clear rounds kept the jump off interesting in the 70cm competition, but it was Domino and Jacqui Lewis that performed perfectly and promptly to be placed in top position.
Laura Warde and Wendy were the only pair to go clear over the 85cm course securing 1st place with the battle for second place being won by Chance and Sarah Cuthbertson.
The top places in the metre class were all decided by jump offs giving an adrenalin filled finish to the competition, the last 1st of the afternoon was claimed by Erin Faloona and Roundthorn Excel beating stiff competition from Chrissy ridden by Louise Craig.
The Equi-Tog photographer kept snapping away throughout the competition to capture the action.
The league continues on Sunday 19th June, 3rd July and 31st July with the final on 4th September, to qualify for league prizes, competitors need to ride on the same horse or pony over the same height at least once more before the final.
Results
Derby League – 15.5.11
60cm – 1st Molly, Roberta Bradbury; 2nd Cherry, Kirsty Marsden.
70cm – 1st Domino, Jacqui Lewis; 2nd Made in Japan, Tara Murphy; 3rd Cherry, Kirsty Marsden; 4th Rab, Claire Gilchrist.
85cm – 1st Wendy, Laura Warde; 2nd Chance, Sarah Cuthbertson; 3rd Rockafella Rose, Nuala McIvor; 4th The Castletown Lad, Miriam Wright.
1m – 1st Roundthorn Excel, Erin Faloona; 2nd Chrissy, Louise Craig; 3rd Song of Charm, Nuala McIvor; 4th Runaway Rebel, Christine Newton; 5th Bugsy, Sophie Adrain