Pony Club restarts for 2013 on Thursday 17th and Saturday 19th January respectively, wrap up warm and we will see you there.
On Saturday 6th October the Saturday group learnt about the correct way to feed a horse a tasty treat and they really enjoyed practicing this as you can see from the photo below.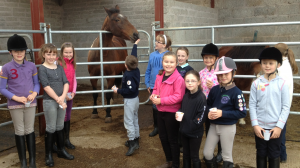 Pony Club members have made a great start to the new season, the Thursday night group had an excellent session with Farrier Joe Traynor on Thursday 27th September, with more than the pony club kids giving Joe a  grilling  on the shoeing process and the farriers role.  We didn't manage to take any photos as everyone was so engrossed we forgot.  Biscuits and juice also went untouched that evening!!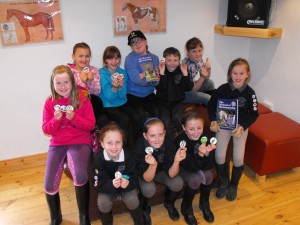 Badges, badges, badges!!
The Laurel View Pony Club Centre opened for a new term on 20th September.  For the incoming season we are trialling a different format for the Pony Club meetings. With meetings every Thursday (alternating between Blue Cross Badgework and preparation for D and D+ tests) and another session fortnightly on Saturday afternoons, working more on badgework and gearing the Pony clubbers up for the E and D tests.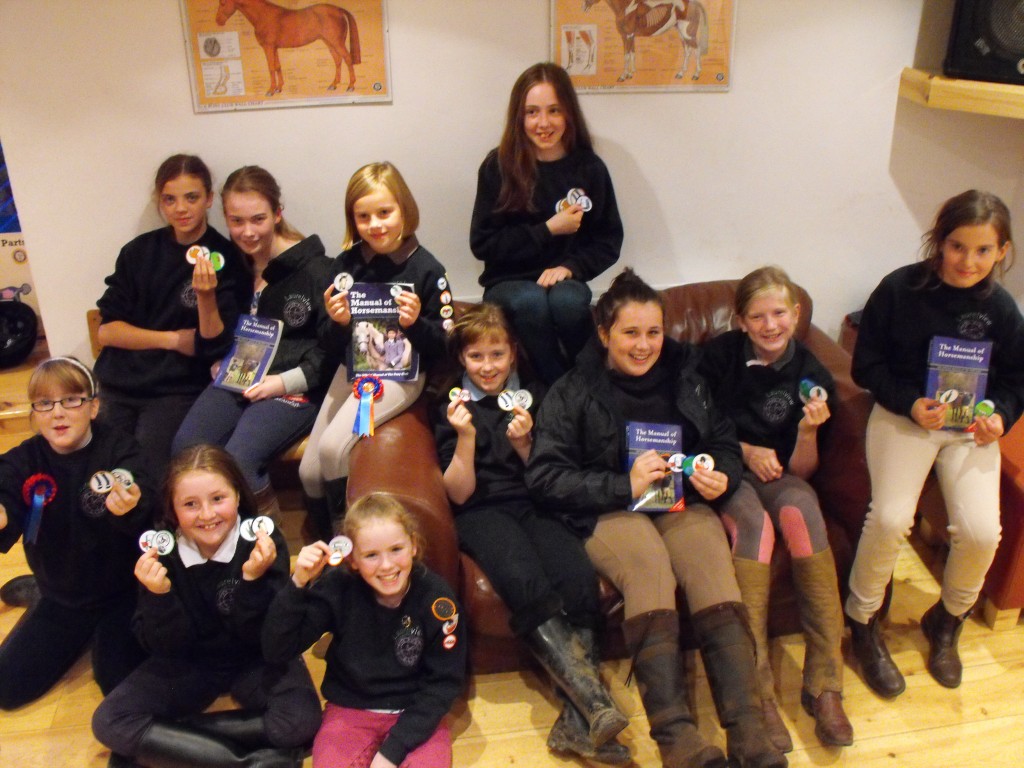 The opening night saw members receiving badges attained last season for Bandaging and Rugs; Dressage Arena; Flags of Equestrian Nations; Handling and Grooming; Loading; Mucking Out; Perfect Paddock; Points of the Horse; Poisonous Plants; Tack Cleaning and Wildlife. They definitely have been busy with all of wide and varied topics covered.
After the presentation of loads of badges (some folk are going to be very busy stitching on the newly awarded badges) discussion followed about the badge work ahead and what was involved in preparing for the D and D+ tests.
Then there was time for biscuits, juice and a few little balancing and memory games to get the season off to an interesting start.
All at Laurel View Pony Club are looking forward to another term. If you ride in lessons at Laurel View ask in the shop for more details on how to join the Pony Club Centre, if you just want more info send a message through this website or email laurelview01@btinternet.com
The first fortnightly Saturday session is on 22nd September. Keep watching this page for a list of Pony Club dates for the next term
The Pony Club is open to all children who ride regularly in the Laurel View Riding School.  Application forms can be picked up in the office.  If you were a member and it has it run out, don't worry it can be easily renewed by telephoning the Pony Club 024 7669 8300. You need to be a current member to be able to participate in pony activities and work towards badges and awards.
What is Pony Club Centre Membership?
PONY CLUB
AS FROM SEPTEMBER 2012 PONY CLUB WILL BE SPLIT OVER SATURDAY AFTERNOONS AND THURSDAY EVENINGS (start date to be confirmed)
ALTERNATE SATURDAYS – 2.30PM – 4.30PM
BADGE WORK / E & D EFFICIENCY TEST WORK
AIMED AT YOUNGER MEMBERS, HOWEVER IF YOU CANNOT COME ON THURSDAYS WE WILL BE PLEASED TO WELCOME YOU
EVERY THURSDAY     6.30PM – 8.30PM
ALTERNATE WEEKS:  BLUE CROSS BADGE (made up of all badges to do with horse welfare) / D & D+ EFFICIENCY TEST WORK
Each 2 hour session is £10, payable at the start of each session.